Charity and not-for-profit organisation
As part of the healthcare charity, The Healthcare Management Trust, HMT St Hugh's Hospital is a not-for-profit organisation. As such, we have no shareholders and our surpluses are used to support dementia charities, educational grants, and medical research around ageing.
Together with out sister hospital, HMT Sancta Maria in Swansea, our mission is to improve the health, wellbeing and independence of people in our care and quality and safety lie at the heart of everything we do. It is very important to us to be a part of the health community and work in conjunction with our NHS colleagues to provide the communities we serve with a high quality, modern healthcare services.
Our Principles
Care You Can Trust
Doing everything we can to provide the best quality care and best value for money.
Charitable Impact
To ensure our charitable surplus creates a positive impact in the areas of dementia care and health promotion.
People Development
Enabling the continued growth and development of our employees, our most valuable resource.
Our Values
Person and Patient Centred
Everything we do is driven by what our patients' needs.
Valuing Achievement
Success is celebrated. Making staff feel valued and proud to work for HMT St Hugh's Hospital.
Driving Innovation
Using an evidence based and research approach to provide better care. Finding solutions quickly without causing unnecessary delay.
Delivering Value
Providing value for money for patients whilst not compromising on standards.
Forging Relationships
Providing the best service by breaking down barriers and working in partnership with other organisations.
Releasing Ambition
Insisting on the highest standards; OK is not good enough. We constantly challenge what we do and set ourselves ambitious, yet realistic goals.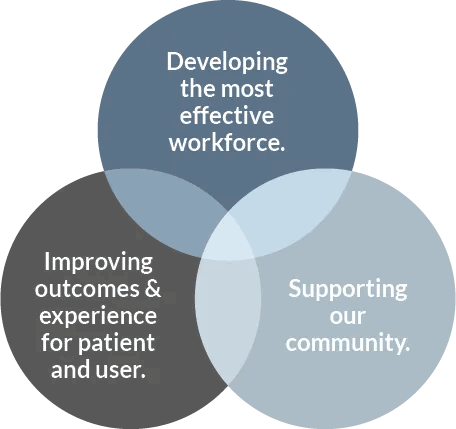 Quality and safety are at the foundation of everything we do.